Profile

Let's keep that in the sanctity of your brain, shall we?
- not that there's anything wrong with that....
This journal contains content only suitable for those over the age of 18.
Free Account
Created on 2009-05-01 10:56:32 (#159897), last updated 2017-04-30 (20 weeks ago)
16,587 comments received, 150 comments posted
3,934 Journal Entries, 291 Tags, 0 Memories, 15 Icons

About

Mini Bio
Yes, I'm over 18. Thanks for asking, it's been a long time!
"Fan fiction is a way of the culture repairing the damage done in a system
where contemporary myths are owned by corporations, instead of owned by
the folk."
---Henry Jenkins, director of media studies, MIT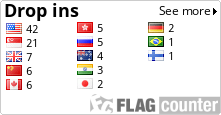 Beautiful Pros banners by
norfolkdumpling
and used with her kind permission. Thank you.

Connect
aotb,
arthur of the britons
,
b7
,
bbc sherlock
,
birmans
,
blakes 7
,
bodie
,
bodie and doyle
,
books
,
brisbane
,
cars
,
cats
, chris godfrey,
computers
, craig lowndes,
cricket
,
doctor who
,
doyle
,
dr who
,
fan fiction
,
fandom
,
fanfic
,
freedom of speech
,
greg murphy
,
harry potter
,
hercules the legendary journeys
,
hutch
,
internet
,
iolaus
, jim & blair,
julian barratt
,
life on mars
,
man from uncle
,
martin shaw
,
mfu
,
mighty boosh
,
motor sport
,
nathan barley
,
never mind the buzzcocks
,
noel fielding
,
pagans
, peter brock,
pros
,
reading
,
sherlock
,
simon amstell
,
star trek
,
starsky
,
starsky & hutch
,
starsky and hutch
,
the it crowd
,
the man from u.n.c.l.e
,
the mighty boosh
,
the professionals
,
the sentinel
,
torchwood
,
v8 supercars

People
[View Entries]

Communities
[View entries]

Member Of (8):

Subscriptions (11):
amplificathon
,
arthur_britons
,
channel_f
,
ci5
,
dw_maintenance
,
dw_news
,
fancake
,
mfu_canteen
,
month_of_meta
,
sherlockbbc
,
tw_classic

Administrator Of (0)

Feeds
[View Entries]

Subscriptions (0)

Linking
To link to this user, copy this code:
On Dreamwidth:
Elsewhere: